THE DUAL ORIGIN OF THE WORLD
Skulptur aus Ton
H. 22 x B. 27 x T. 25 cm
lackiert mit Strasssteine verziert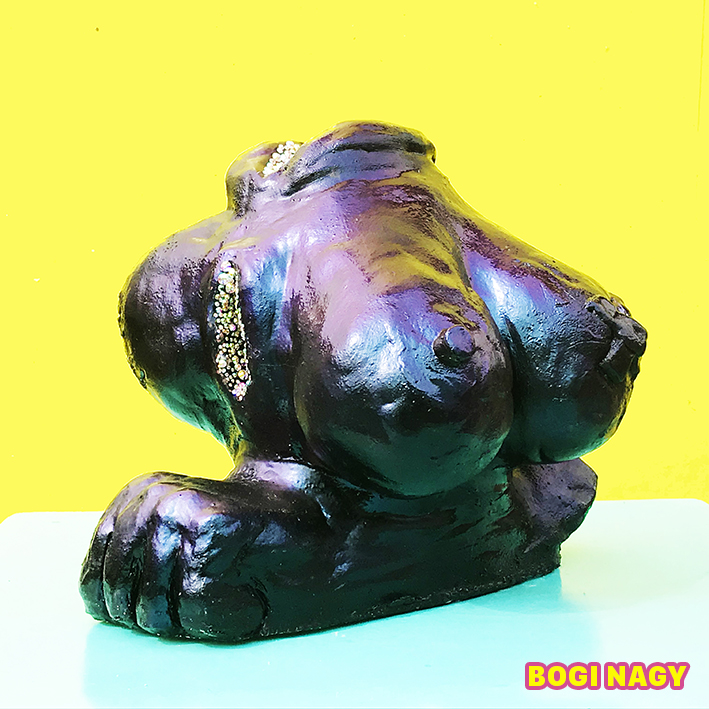 Goethe wrote: "The eternally feminine attracts us". The present sculpture is in no way inferior to this sentence, for as an agglomerate of primary female sexual characteristics, it represents the epicenter of male sexual desire. But the heteronormative dichotomy of "masculine" and "feminine" erodes in the face of contemporary sexual morality, which transcends existing boundaries and categories in the pursuit of individual freedom. "Everything goes" becomes the essential maxim of this zeitgeist, in which the private self-realization of sexual identity is one of the indispensable core criteria of democratic coexistence. The heteronormative, patriarchal order of rule, which is more and more like yesterdays, is thus disrupted by the ostentatious display of the vulgarly feminine.
Subversively, the sculpture offers the viewer everything that the man desires. In this form however, femininity has lost its human appearance in the course of its reduction and objectification, which has progressed beyond recognition, and thus refers to the inhumanity of the patriarchal yoke, which seeks to make women serve only the purpose of male sexual arousal. Sheer femininity thus represents the most rigorous declaration of war against patriarchy and is a thunderous plea for freedom and equality.
Goethe schrieb: "Das Ewig-Weibliche zieht uns hinan." Die vorliegende Skulptur steht dieser Sentenz in nichts nach, repräsentiert sie doch als Agglomerat primärer weiblicher Geschlechtsmerkmale das Epizentrum männlicher sexueller Begierde. Doch die heteronormative Dichotomie aus "Männlich" und "Weiblich" erodiert im Angesicht der zeitgenössischen Sexualmoral, die bestehende Grenzen und Kategorien im Streben nach individueller Freiheit hinter sich lässt. "Everything goes" wird zur wesentlichen Maxime ebendieses Zeitgeistes, in dem die private Selbstverwirklichung der sexuellen Identität eines der unabdingbaren Kernkriterien demokratischen Miteinanders ist. Die mehr und mehr dem Gestern anheimfallende heteronormative, patriarchalische Herrschaftsordnung gerät demnach durch die ostentative Zurschaustellung des vulgär weiblichen aus den Fugen.
Subversiv hält die Skulptur dem Betrachter alles feil, wonach dem Mann gelüstet. In dieser Form hat die Weiblichkeit im Zuge ihrer bis zur Unkenntlichkeit vorangeschrittenen Reduktion und Objektivierung ihr menschliches Erscheinungsbild jedoch eingebüßt und verweist somit mahnend auf die Inhumanität des patriarchalischen Jochs, das die Frau einzig zum Zweck der männlichen sexuellen Erregung dienstbar zu machen sucht. Die schiere Weiblichkeit stellt somit die rigoroseste Kampfansage gegen das Patriarchat dar und ist ein donnerndes Plädoyer für Freiheit und Gleichheit.