English Post // 2021.03.08

Artist of the Month March 2021

Place: BOGI NAGY GALLERY & ATELIER
Schlehengasse 15
90402 Nürnberg
Lydia: Hello and good afternoon Bogi; it's so good to see you again, and thanks for inviting me and taking the time for this interview.
Bogi Nagy: It's good to have you, Lydia. I am delighted to have been selected as artist of the month for the English Post community!
Are you a night owl or an early bird?
Bogi Nagy: I'm absolutely a night owl; I love working through when the city is asleep.
Where do you get your inspiration for your art from?
Bogi Nagy: I am my own muse.
Do you have any artistic role models?
Bogi Nagy: I am inspired by female artists with strong personalities, such as Niki de Saint Phalle and Frida Kahlo.
Do you get angry about criticism?
Bogi Nagy: No, not really… everyone has different perceptions, and therefore art is relative.
What are you proud of?
Bogi Nagy: I'm proud of my determination.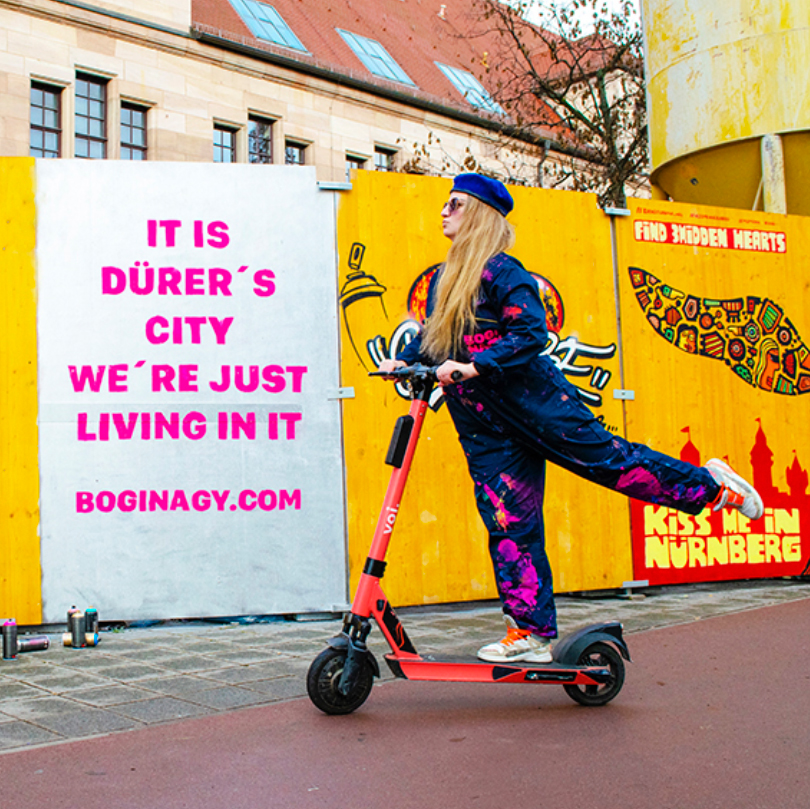 Where would you like to be exhibited once in your lifetime?
Bogi Nagy: At the Giardini Botanici Hanbury (Botanic Garden Hanbury), also known as Villa Hanbury, which is about 40 kilometres away from Nice on the Côte d'Azur.
What is your favourite place and your favourite part of town in Nuremberg?
Bogi Nagy: My absolute favourite place is my unique art studio. In addition, I like special places that enjoy cult status like Meisengeige, Café Bar Wanderer or the ballroom of Bäckerhof. Generally, I'm a huge fan of the Old Town of Nuremberg.
What do you always have at home in the fridge?
Bogi Nagy: Best quality cheese and Franconian beer for my husband.
What is your favourite dish?
Bogi Nagy: Kettle goulash (Kesselgulasch), a typical Hungarian culinary speciality, passed down from my father to me, is unbeatable.

Who would you definitely not want to sit at a table with?
Bogi Nagy: Depends; who is sitting at the table.
What character traits do you appreciate or value in others?
Bogi Nagy: I appreciate people with courage who are, at the same time, cheerful and heartwarming and go through life with an inspiring attitude and a positive mindset.
How do you relax?
Bogi Nagy: I do what I love! So I'm relaxed when I 'm fully immersedin my art.
Where is your next trip going to be?
Bogi Nagy: Skyspace-Lech, a walk-through piece of conceptual art designed by US artist James Turell, located at Tannegg/Oberlech in the province of Vorarlberg in Austria.
What dream do you want to fulfil yourself?
Bogi Nagy: To realize my own artist colony, according to my building plans and art teachings. I wrote my bachelor's thesis about it. I am currently applying for the necessary funding. So, keep your fingers crossed for me!
Life is too short to…
Bogi Nagy: …work for someone else's dreams.
Lydia: It was wonderful meeting you today, and I really appreciate that you set aside time for this interview.
Bogi Nagy: My pleasure.
Text: Lydia Taylor